" Simple machine is beautiful. "
Driving for the ideal of the field to manufacture noodle where
the relationship between human and machine keeps to be gentle,・・・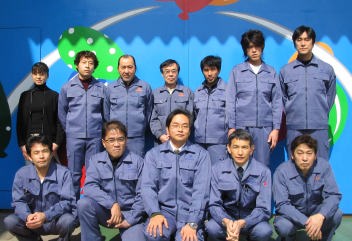 Our company, YAMADA IRONWORK'S CO., LTD., has the soft and simple
nature like noodle, contrary to the hard company-name.

YAMADA was established at 1923 as a pioneer company to manufacture
noodle machines, and has been constantly serving everlasting
and convenient noodle machines to users, since.

During the long time morethan 80 years from establishment,
our company has been trying to innovate machine-technoligy and to bring up
the technical talents, and has been on ahead catching needs that the field
asks about noodle machines.

The stream of time is changing from 'mass-production and expantion'
to 'balance and respect to human'.

We catched this stream without delay and changed the system of
our company suitably.

In 1982 we completed our head factory to "bright and happy workplace" here,
and turned our company into the machine-industry to respect humanism.

The motto of our company is "Simple, Correct, Safe, Clean and Comfortable",
and the keyword of our manufacture is "Simple machine is beautiful".

With the motto and the keyword, we hope to contribute to the good of society.